Everything you need to know about Microsoft TEAMS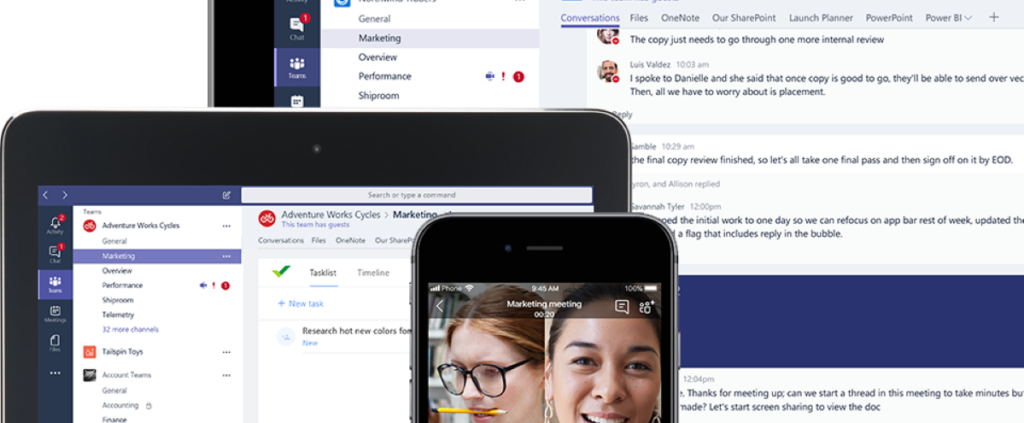 Microsoft Teams is a hub where all teamwork is concentrated in Office 365. Manage all your team's chats, meetings, files, and applications in one place.
What is Microsoft TEAMS?
Microsoft Teams is a business communication platform that brings together the best Office capabilities. Teams is based on chat-based communication and collaboration.
What sets Teams apart from their rivals is their seamless integration of apps trusted by business users every day, including messaging, Office 365, video conferencing, file sharing, collaborative editing, and Teams-based planning.
How Microsoft Teams Works
Teams makes it easy to create dedicated spaces for project teams, business units, work teams, and other groups to communicate and collaborate. By creating a 'team' and assigning users, organizations can establish private group chat rooms (called 'channels') to plan, manage and deliver work.
Each team can configure multiple channels to keep discussion topics focused and organized. For example, you can create a team for corporate services staff and use three separate channels to discuss social events, staff training, and process improvement.
The channels are easy to use and offer a familiar experience to other popular messaging applications. The conversations are grouped together in one thread so you can access all group chat messages in one place. Users receive notifications when a new message is available. Group calls and video chats can also be started with one click from each channel.
Microsoft Teams and Office 365: a winning combination
Channel benefits are not limited to team chat. Microsoft Teams integrates a range of Office 365 capabilities including: SharePoint, Word, PowerPoint, Project, Power BI, …
Team members can use channels to create, edit, and collaborate on documents and tasks, with each user's changes visible in real time. Changes can also be automatically synchronized with OneDrive or SharePoint to ensure the latest version is always available and accessible.
Microsoft has big plans to continue improving computers over time, with nearly 200 updates currently in development on the product roadmap.
Teams Microsoft Features
Microsoft Teams is one of the most popular communication platforms in the world, and for good reason. It is designed to meet the important communication and collaboration needs of business teams, regardless of location or device choice. Key features include:
Instant messaging
Instantly connect with team members at different locations and devices.
Private chat-based messaging
Group chat-based messages with access controls
Minimize email volumes between team members.
Allow team members to work more flexibly
Easy-to-read chat windows with full visible chat history
Seamlessly toggle between chat, voice calls, video calls and screen sharing
Receive and customize alerts for chat-based messages
Access GIFs, stickers, and emojis to support team culture and communication.
Voice and video calls
Make high-quality voice calls and video calls to individuals or groups
Call people anywhere in the world and from any device
Initiate voice or video calls with a single click
Use screen sharing to collaborate in real time from any location
Meetings
Organize meetings, presentations and events for users anywhere in the world.
Provide a high-quality interactive video experience for up to 10,000 participants \
Easy access to documents and data stored in Office 365
Record meetings and calls so no one gets lost
Accessibility
Work flexibly by accessing Teams on the device that suits you: phone, tablet or laptop
Enjoy a perfect user experience, with Teams versions optimized for different devices.
Switch between devices without problems or delays
Experience high-quality video and audio from any device
View, edit and collaborate on documents in real time from any device
Applications and integrations
Integration of Office 365 capabilities into a single workspace including chat, voice and video calls, file sharing, collaboration, and planning
Access to plugins like Twitter, Trello, Google Analytics and more so teams can access the tools they need outside of Office 365 in one place
Create your own custom app, like QBot, for your team or organization
Security and compliance
Integrated security, compliance and management tools to optimize IT security
Advanced data protection capabilities
Granular access and security controls.
Why Microsoft TEAMS?
If you really want to increase productivity, improve employee engagement, and make the most of your Office 365 investment, Microsoft Teams is the right collaboration platform.
Here are five reasons why companies choose TEAMS:
Seamless integration with the rest of Office 365
One of Teams' advantages over other collaboration software is that it integrates seamlessly with Office 365 and third-party applications. Users don't need to switch applications to schedule a meeting, edit a Word document, or ask a colleague a question.
In addition, Teams puts all Office 365 communication and collaboration tools in one place, promoting user adoption and ensuring the maximum return on your Office 365 investment.
A unique platform for collaboration and teamwork.
Keeping track of conversations and files is challenging when collaborating via email. With a Microsoft Teams solution, all documents and conversations are in one easy-to-access location. And because Teams is a cloud-based app, team members can edit documents together in real time.
Communication on the go
The speed of work makes it necessary to have tools accessible from any device. Microsoft Teams can also schedule and join meetings, access files, and chat with colleagues on mobile devices.
Customizable to meet the needs of your business.
Do you need a document signing workflow or bot to manage employee inquiries? Microsoft Teams has a set of applications and bots that you can use to improve functionality.
Scheduling and organizing meetings is easy
Microsoft Teams meetings are easy to schedule, sync with Outlook, and have integrated audio, video, and screen sharing capabilities. For group meetings, you don't need a dial number or PIN – everyone on the team can join.
When to use Microsoft TEAMS
What is the hardest part of getting started with Microsoft Teams solutions? Decide where to start.
The Microsoft Teams web app is flexible, customizable, and can be customized to fit almost any purpose. And while these are intrinsically positive traits, it is easy to feel overwhelmed by what is possible. Let's see some practical examples:
Microsoft Teams for Customer Service Workers
From receptionists and retailers to customer service officers and medical professionals, front-line workers are the visible face of a company. Microsoft Teams services empower front-line workers by addressing the challenges associated with mobile, shift-based, and customer-oriented work. Provides:
A secure and integrated platform to communicate with employees at all locations.
24/7 mobile access to company information
Mobile access to training materials.
Access to workforce management systems such as timesheets and rosters from a single platform (coming soon)
Tools to support, recognize and praise staff for their achievements.
Advanced messaging and security features to protect corporate data.
Microsoft Teams in education
As the workforce becomes more competitive, tomorrow's students need highly developed collaborative skills and critical thinking. Schools and universities are looking for platforms like Microsoft Teams to unlock new ways to participate, collaborate and learn.
Microsoft Teams for HR
In today's modern workplaces, employees are geographically dispersed, work flexibly, do their jobs online, and adopt new tools and technologies. And that has presented a series of new challenges for human resources personnel.
Microsoft Teams in sales and marketing
From brainstorming marketing campaigns through chat, to working on projects in creative, whiteboard-style digital workspaces, the Microsoft Teams web app simplifies sales and marketing communication.
https://www.haconsultancies.com/wp-content/uploads/2020/04/1.png
656
1024
admin
https://haconsultancies.com/wp-content/uploads/2017/07/logo-300x100.png
admin
2020-04-15 13:36:05
2020-07-20 06:29:27
Everything you need to know about Microsoft TEAMS